"Baby make your booty go da na da na, girl I know you wanna show,
da na da na, that thong th thong thong thooong".
Almost everyone in the world knows this song,
even boys and girls born after the year 2000:
Sisqó's 1999 infamous ode to women's underwear.
The Thong Song. Although the lyrics are quite superficial and not
Nobel price worthy, the song is super catchy and stays
in your head for at least a week after listening to it.
Now why am I talking about thongs and Sisqó you might ask?
Well, as a huge R&B junkie since 1998, I've always been a fan of
Dru Hill, THE R&B group of the nineties, with of course Sisqó as
their lead singer. I even had posters of Sisqó hanging on my
closet and bought all of their/his cd's.  So when I heard that Dru Hill
was coming to Holland for a concert, I was first in line for tickets.
I'd never seen them perform live, so of course I was super excited. It was the night of the concert
and I dragged my bf along to finally see my R&B heroes on stage. I was in even more luck, because
Dru Hill wasn't alone. Ginuwine and 112, other nineties, R&B heavyweights,
were also performing, so this was going to be a trip down memory
lane kind of party. On a side note, I was feeling kinda old when
I asked my coworker if she knew who Ginuwine was.
She asked "who?" And typed in Google: Ginger Wine.
It was the funniest and saddest thing, that happened all week.
Anyway the show was awesome and all the artists still sang and
danced like it was 1998, they hadn't aged a year. Dru Hill was the absolute highlight of the show
and Sisqó even performed some
solo hits, making sure we knew that Thong Song wasn't his biggest hit, it was
Incomplete. But luckily he eventually also performed his booty
anthem and the crowd went crazy. When the show was almost
done and 112 were singing their last notes, my bf told me we had
to go, before the exit was going to be too crowded. Of course I didn't listen, because 112 wasn't done yet.
When the show had come to an end, we cycled home and decided
to stop by Burger King, because we were hungry and I needed
a Whopper stat. Unfortunately they had just closed, we were
5 minutes too late. Suddenly I saw a big, black van parked in front of the
restaurant, with the doors open and a guy sitting on the edge. I asked my bf "Isn't that Jazz from Dru Hill?" My bf nodded yes, while already walking towards him. I followed and before I knew it we were taking selfies with Jazz from Dru Hill and
making small talk. I remember thinking to myself, "how cool is this?" And my second thought was: "so where's Sisqó?" I turned around and saw someone sitting inside the BK with a colorful jacket and a hat on.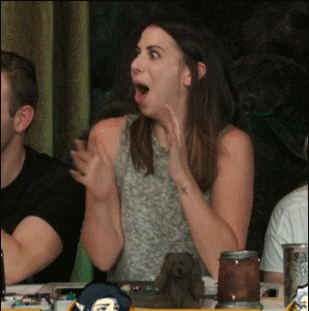 It was Sisqó and the rest of Dru Hill! I got so excited that I almost knocked
on the glass door to scream "SISCOOOO", but I controlled the fangirl inside me and acted cool,
because Jazz was still sitting behind us.For a moment I wanted to wait for Dru Hill to finish their food and
come outside, but the 33 year old in me decided it was better
for my reputation to just go home. So we waved Jazz goodbye and
I whispered "bye Sisqó" while biking away. That day will forever be The Day I Almost Met Sisqó.
On the way home I kept beating myself up for not listening to my bf and leaving the concert earlier. Just 5 minutes would have made all the difference to meet my R&B
idol since I was 16. Stupid universe! Stop giving me such a hard time.
A few weeks later I posted a photo of Sisqó in concert on Instagram.
It scored some likes, nothing special. But to my big surprise, a few days later a very, very special like came in.
It was from Sisqó himself! The real Sisqó. I was so happy that I decided to send him a dm. I told him the story,
how I met Jazz and almost met him and that I wished him all the luck with Dru Hill and his music.
He didn't respond. A few days later, he liked another photo on my Instagram.
At that moment I saw a dm coming in…
I opened it and saw that he had responded to my message!
It was a short but sweet: "awww thanks" with an emoji. All this time I had kept my bf,
coworkers and friends updated with every new Sisqó Instagram story. "OMG Sisqó liked my photo!",
followed by "OMG Sisqó liked another photo!" and eventually "OMG Sisqó dm-ed me!" Until the day I was at the office and
checked my phone. I looked up and screamed "OMG Sisqó is following
me on Instagram!" I had to fight the urge to run by every department
and yell that Sisqó is following me on Instagram. That was a great day.
Thank you Universe, I won't ever complain again.
So I may have not met Sisqó, but I did meet Jazz. And Sisqó is
following me on Instagram! I'm sorry, but it's just so cool to say. It's actually funny,
how social media makes artists so much more approachable now,
then back in the days. You could never get in
touch with your favorite artist in the nineties. You would send letters
to the record company or fanclub, hoping that your idol would open
and read it and maybe even send a letter back. Which of course
never happened. Or in my case, being a major Backstreet Boys fan when
I was 14, hide a letter inside a teddy bear and throw it on stage.
I was so far away from the stage, that it never even reached them. I did get a letter back from another
fangirl and we started out to be penpals, lol.
I'm just saying, keep your hopes and dreams up.
You never know what (or who) is around the corner.
Love,
Lina